Biography of
Robert J. Yarbrough
I have practiced law for over thirty years. I am a patent attorney licensed to practice before the United States Patent and Trademark Office and hold a degree in mechanical engineering. I am a partner in the law firm of Lipton, Weinberger & Husick, a specialty intellectual property firm based in Southeastern Pennsylvania.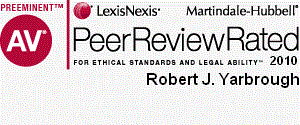 I am rated 'AV' (preeminent) by the Martindale-Hubbell attorney rating agency based on peer reviews by other attorneys. 'AV' is the highest possible rating and fewer than 5 percent of attorneys achieve an 'AV' rating.
I opened my patent law office in 1998 and have practiced patent law from that time to the present. I worked in the Environmental Practice Group of Drinker, Biddle & Reath from 1996 until 1998 and in the Environmental Department of Cohen, Shapiro, Polisher, Shiekman & Cohen, a Philadelphia regional firm, from 1989 through 1995. I enforced environmental laws for the Commonwealth of Kentucky from 1977 through 1988.
I am Chairman of the
Pennsylvania Intellectual Property Forum
(1998 - present). I am past Chairman of the
Delaware County Bar Association
Intellectual Property Committee (2002) and past Legislation Co-Chair of the
Philadelphia Bar Association
Environmental Law Committee (2000-2001).
Follow this link to my recent publications. To send an e-mail to me, follow this link: e-mail. The Pennsylvania Intellectual Property Forum advocates for individual inventors and small businesses. Follow this link to learn about our advocacy activities.