Newsletter Issue 94 - December 2016
In this issue:
David beats Goliath
Common law copyright
Patents important to big pharma?
Apple v Samsung news
Ask Dr. Copyright ...
Dear Doc:
I understand that it's sometimes hard to take when someone makes fun of you, but now I have heard that one of the world's largest brands, LOUIS VUITTON MALLETIER, S.A. (LVMH) (owners of, among other brands, Ardbeg, Belvedere, Bodega Numanthia, Cape Mentelle, Chandon, Chandon Argentina, Chandon Australia, Chandon California, Chandon China, Chandon do Brasil, Château Cheval Blanc, Château d'Yquem, Cheval des Andes, Cloudy Bay, Dom Pérignon, Glenmorangie, Hennessy, Krug, Mercier, Moët & Chandon, Newton Vineyard, Ruinart, Terrazas de los Andes, Veuve Clicquot, Wenjun, Berluti, Céline, Christian Dior, Edun, Emilio Pucci, Fendi, Givenchy, Kenzo, Loewe, Loro Piana, Louis Vuitton, Marc Jacobs, Moynat, Nicholas Kirkwood, Thomas Pink, Bvlgari, Chaumet, De Beers Diamond Jewellers, Fred, Hublot, TAG Heuer, Zenith, DFS, La Grande Epicerie de Paris, Le Bon Marché Rive Gauche, Sephora, Starboard Cruise Services, Cheval Blanc, Connaissance des Arts, Cova, Investir, Jardin d'Acclimatation, La Samaritaine, Les Echos, Nowness, Radio Classique, Royal Van Lent) sued a small Los Angeles company that makes canvas tote bags. What gives? Can they do that?

Signed,
Dazed and Confused

Dear D&C: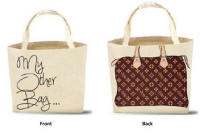 Yes, you heard right. LVMH did bring a trademark and copyright infringement law suit against a small company called My Other Bag, Inc. (MOB) that makes canvas totes that say "My other bag..." on one side, and have graphics showing bags on the other. For reference, here is the $35 My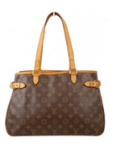 Other Bag in the suit:

And here is the similar $1,810 bag from LVMSA:

According to the federal court, "Louis Vuitton brings claims against MOB for trademark dilution and infringement under the Lanham Act, 15 U.S.C. § 1125(c); a claim of trademark dilution under New York law; and a claim of copyright infringement." The judge in the suit said in his opinion,
MOB's totes - indeed, its very name - are a play on the classic "my other car . . ." novelty bumper stickers, which can be seen on inexpensive, beat up cars across the country informing passersby - with tongue firmly in `cheek - that the driver's "other car" is a Mercedes (or some other luxury car brand). The "my other car" bumper stickers are, of course, a joke - a riff, if you will, on wealth, luxury brands, and the social expectations of who would be driving luxury and non-luxury cars. MOB's totes are just as obviously a joke, and one does not necessarily need to be familiar with the "my other car" trope to get the joke or to get the fact that the totes are meant to be taken in jest. Louis Vuitton Malletier, S.A. ("Louis Vuitton"), the maker of Louis Vuitton bags, is perhaps unfamiliar with the "my other car" trope. Or maybe it just cannot take a joke."
In a 12 page opinion on January 8, 2016, Judge Furman considered whether MOB infringed trademarks and copyrights, and concluded,
Louis Vuitton is, by its own description, an "active[] and aggressive[]" enforcer of its trademark rights. In some cases, however, it is better to "accept the implied compliment in [a] parody" and to smile or laugh than it is to sue. ... MOB's use of Louis Vuitton's marks in service of what is an obvious attempt at humor is not likely to cause confusion or the blurring of the distinctiveness of Louis Vuitton's marks; if anything, it is likely only to reinforce and enhance the distinctiveness and notoriety of the famous brand. Accordingly, and for the reasons stated above, MOB is entitled to summary judgment on all of Louis Vuitton's claims[.]
Unhappy with that result, LVMH appealed to the Second Circuit Court of Appeals. On December 22, 2016, the decision of the appellate court took 6 pages to conclude: "UPON DUE CONSIDERATION, IT IS HEREBY ORDERED, ADJUDGED, AND DECREED that the judgment entered on January 8, 2016, is AFFIRMED." In other words, in this case, the little guy (or, actually, gal, since MOB is the brainchild of Tara Martin who looks a lot like Ivanka what's-her-name, but I digress...)

So, in the end, after both companies paid lawyers bags full of money, MOB got to keep selling its $35 sacks, and LVMH got to keep selling its $1,800 sacks (guess which Ivanka would buy) and all is right in the world, right?

Do you have a fun product that is causing a gigantic multinational corporation to threaten you? Are YOU a gigantic multinational corporation whose trademarks and copyrights are being infringed by some insignificant speck of a company? The attorneys at LW&H are standing by for your phone calls. So you don't forget, call before Midnight, tonight.

Until next month, Happy New Year.

The "Doc"
Common-Law Copyright Redux
Two years ago we wrote about Floe & Eddie, Inc.'s, attempt to obtain royalties from SiriusXM for performances of the Turtle's pre-February 1972 sound recordings. Floe & Eddie filed claims in California, New York, and Florida seeking to obtain royalties for performances of their recordings under state common law. You may recall that for pre-February 1972 sound recordings, there is no federal performance right. Simply put, this means if you are the copyright owner of a pre-1972 sound recording (e.g., a vinyl record), you will not receive royalties under federal law for playing the record over the air.

When we wrote the original article, the U.S. District Court for the Southern District of New York denied SiriusXM's motion for summary judgment on grounds that the Turtles had New York common law performance rights in their pre-1972 sound recordings. It turns out that our original conclusion that states may seek to protect owners of pre-1972 sound recordings may have been premature, at least as applied to New York state. Here's what just happened.

The United States District Court for the Southern District of New York denied defendant's motion for reconsideration. On appeal, the Second Circuit Court of Appeals determined that the case presented "a significant and unresolved issue of New York copyright law," and certified the question of whether there was a pre-1972 performance right to the New York Court of Appeals (New York's "supreme court"). On December 20, 2016, the court issued its opinion, holding that under "New York common-law copyright does not recognize a right of public performance for creators of sound recordings...." It looks like SiriusXM wins!

How the court arrived at its decision is a fascinating textbook on how courts render opinions on complex legal issues where legal precedents are thin. A detailed summary of the court's opinion is beyond the scope of this short article but here's what the court said in a nutshell.

The court begins its opinion with a summary of federal copyright law noting in particular Congress' attempt - in granting performance rights to post 1972 sound recordings - to strike a balance between stakeholders "including digital radio services, recording companies, composers, terrestrial radio stations, businesses that play music on their premises, performing artists, and the public." At the outset, foreshadowing its own holding, the court notes that if New York law includes a right of performance then copyright owners "have gone decades without acting to enforce their rights." The court proceeds with a detailed review of New York common law concluding that "our common-law copyright protection prevents only the unauthorized reproduction of the copyrighted work, but permits a purchaser to use copies of sound recordings for their intended purpose, namely, to play them..."

The court also looked to "societal expectations." According to the court, common sense suggests that "record companies and artists had a symbiotic relationship with radio stations, and wanted them to play their records to encourage name recognition and corresponding album sales." In other words, rights owners weren't concerned about performance rights because the absence of such rights did not upset the relationship. As the court put it, everyone was "happy together." In that context, the absence of any legal precedent on the issue is explainable.

For those interested in the details of the court's opinion here is a link to the full opinion.
Are patents still important to the pharmaceutical industry?
You betcha. The business model of Big Pharma depends on patents. Without strong, enforceable patents, privately-funded pharmaceutical research would not exist.

Case in point: Gilead sells the highly effective 'Solvadi' hepatitis C drug for $1000 per pill. That's $84,000 for a twelve-week course. Idenix, a Merck subsidiary, argued that Gilead's Solvadi infringed Idenix patents. A jury in the U.S. District Court in Delaware agreed and awarded Idenix damages of $2.54 billion. That's billion with a 'b.' Is this case over? Highly unlikely. The Apple v Samsung $399 million judgment for design patent infringement looks puny by comparison. Incidentally, the same twelve-week course of treatment in India costs about $336.00.
Supreme Courts Decides Apple v Samsung (just kidding)
Speaking of Apple v Samsung, the Supreme Court issued its decision in this long-running litigation about design patents. To recap, Samsung copied the design of Apple's iPhone and infringed Apple's design patents in the process. There is no question whether the Apple patents are valid - they are. There is no question whether Samsung infringed those patents - it did. Those matters are finally decided and are not appealed. The question for the Supreme Court is how damages for Samsung's infringement are measured.
The patent statue has a special provision for design patent infringement:
Whoever... (1) applies the patented design, or any colorable imitation thereof, to any article of manufacture for the purposes of sale, or (2) sells or exposes for sale any article of manufacture to which such design... has been applied shall be liable to the owner to the extent of his total profit...
35 U.S.C. section 289. The question is, total profit of what? Is it the profit on the sale of the whole smartphone (as said Apple, and the trial court, and the Federal Circuit Court of Appeals) or just the profit on the visible part of the smartphone that copied the appearance of the iPhone; namely, the smartphone case (as said Samsung). Apple's position results in very large damages. Samsung's position results in very small damages.

And the Supreme Court decided - well, not much of anything. The unanimous court decided that the 'total profit' can be for a component, or it can be for the whole phone. The Supreme Court refused to make any pronouncements on how damages should be calculated and sent the matter back to the Federal Circuit for better briefs from Apple and Samsung.