Newsletter Issue 5 - July 2009
In this issue:
Is ASCAP crazy?
Michael Jackson Defied Gravity.
Registered Offices are important.
Why not use fake patent numbers?
Is ASCAP crazy?
by Adam Garson
If the American Society of Composers, Authors, and Publishers (ASCAP) has its way, each time your ringtone sounds in a public place, it is a public performance and, assuming you didn't pay a royalty (a good assumption), you have violated copyright law. That's the claim made by ASCAP in responding to AT&T's Motion for Summary Judgment filed in a federal court action over license fees. 
ASCAP argues that there is no question that the performances that AT&T causes are "public," regardless of whether some customers' phones may sometimes be switched to vibrate, turned off or located in the home. According to ASCAP for a ringtone performance (and here, focusing on the time when the phone plays) to be a public performance, it need not be received by the public every time. A transmission or other communication is made "to the public" if it "is capable of reaching different recipients at different times, as in the case of sounds or images stored in an information system and capable of being performed or displayed at the initiative of individual members of the public." H.R. Rep. No. 90-83, at 29 (1967). It need only be "capable" of being performed to the public; whether the ringtone is set to play, and indeed whether anyone hears it, is of no moment.
Now, millions of cell phone users have purchased musical ringtones.  Presumably, a portion of the cost is a license fee for the purpose of playing the ringtone. Yet, ASCAP argues that the phone carriers must ante up even more money to pay for all those public performances. In an effort to introduce a reality check to the proceedings, the Electronic Frontier Foundation filed an amicus brief, which pointed out that copyright law does not protect public performances "without any purpose of direct or indirect commercial advantage."  The notion that millions of cell phone users are breaking the law when their phones sound in a restaurant is just ludicrous according to EFF Senior Intellectual Property Attorney Fred von Lohmann, who is also quoted as observing that taken to its logical conclusion, ASCAP would find each person who plays his car radio with the windows rolled-down guilty of copyright infringement. 
A quick review of the Copyright Act suggests that the EFF is correct.  Interestingly, there is little case law on the subject and none that addresses a similar issue.  It will be interesting to see what the court decides. Surely, it won't make us pay each time our cell phone rings? Or will it? To see the full articles visit the EFF website
Michael Jackson defied gravity.
by Robert J. Yarbrough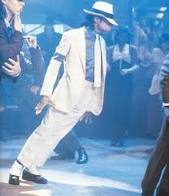 Creative people are, well, creative. The late Michael Jackson was an inventor as well as an entertainer. He held U.S. Patent 5,255,452 issued October 26, 1993 for a "Method and Means for Creating Anti-Gravity Illusion." His invention was a dance shoe featuring a heel that he could secure to the floor while performing a dance move. The shoe enabled Jackson to perform the anti-gravity lean in the 'smooth criminal' video
Registered Offices are important.
by Adam Garson
If you create a corporate entity in a state where your company may not have a physical presence, most states will require you to maintain a corporate agent, that is, an individual or entity who is responsible for receiving legal documents -- notices and court papers -- on behalf of your company.  
Pennsylvania differs in that it does not require an agent but, rather, a so-called "registered office" or "registered address."  Section 1507 of the Pennsylvania corporations law states that "every business corporation shall have and continuously maintain in this Commonwealth a registered office which may, but need not, be the same as its place of business." Pennsylvania law, however, acknowledges that many entities' registered addresses are actually those of an agent or a corporate services company and, therefore, provides rules for notifying the state of changes in an agent's address or status. See, for example, 15 P.S. §§ 108 (Change in location or status of registered office provided by agent) and 109 (Name of commercial registered office provided in lieu of registered address).  
Delaware law expressly requires that all corporations maintain an agent.  Section 132 of the Delaware Corporations law states that "every corporation shall have and maintain in this State a registered agent," which can be the corporation itself, an individual or another business entity.
Failing to maintain current information about your registered agent can have adverse consequences.  In both Pennsylvania and Delaware, for example, failure to designate a registered address or agent could lead to cancelation of an entity's certificate of formation.  In a litigation context, a plaintiff's inability to serve process (i.e., a civil complaint) because of the defendant's failure to notify the state of a change in a registered address or agent, could deny the defendant a defective service defense, which could result in a default judgment.
The cost of maintaining an agent is relatively minor and may range from $50.00 to $500 per year depending upon the services being offered.  Make sure your house is in order.
Why not use fake patent numbers?
by Robert J. Yarbrough

Why not skip the cost and uncertainty of the patent process and simply mark your product as patented or as 'patent pending' when you have no patent or no patent pending? 
The patent statute at 35 U.S.C. 292 provides that falsely labeling something as 'patented' or 'patent pending' is subject to a fine of up to $500.00 "for every such offense" provided the false marking was performed "for the purpose of deceiving the public." Any citizen can act on behalf of the Federal government to enforce this right and split any proceeds with the government.  
Solo Cup Co. makes disposable dinnerware, including paper and plastic drinking cups. At one time, Solo Cup held patents and incorporated patent notices into the molds that it uses to manufacture its products. The patent notices still appear on the products, even though the patents expired long ago have not been in effect for many years.
A private citizen sued Solo Cup alleging false marking. As soon as Solo Cup learned of the false marking, it put in place a plan to retire the molds bearing the patent notices as the molds become worn and to replace them with molds lacking patent notices. The matter was scheduled for a jury trial beginning on July 27, 2009. On July 2, the U.S. District Judge dismissed the action against Solo Cup. The judge was persuaded that Solo Cup's inclusion of the false patent notice was not "with the intent to deceive the public."  
This case leaves questions unanswered. What if Solo Cup had been less innocent and actually had intended to deceive the public? For example, what if Solo Cup simply falsified the patent notices and made up fake patent numbers?  Would Solo Cup have been liable for $500.00 for each of the millions of falsely-marked paper cups that it has manufactured? The Court did not reach this question.
The bottom line is that false marking can result in substantial fines and that any private citizen can sue to collect those fines. Marking a product as patented based on an expired patent can result in a false marking claim.