Newsletter Issue 18 - August, 2010
In this issue:
Dr. Copyright - mailing a work to myself
End of the Internet monopoly
Protecting trade secrets from employee theft
Patent invention services - buyer beware
Ask Dr. Copyright...
Dear Dr. ©:

A friend of mine said that I can copyright the songs that I write by sending them to myself using registered mail. That sounds easy. So, what's the scoop?
sincerely
Musically Uninformed
Dear MU:

Your friend has perpetuated one of the oldest "urban myths" (apart from that one about alligators in the sewers of New York...turns out that they were crocodiles, not alligators! Who knew?) Anyway... since the United States "acceded" to the Berne Convention (no, we did not attend and there was, sadly, no big party with lots of fondue, that's just the name of the treaty) you get a copyright automatically as soon as your composition is "fixed in a tangible medium of expression." (Copyright lawyer speak for written down, recorded, etc.) The copyright you get depends on whether you wrote the song as an employee or on your own. If your wrote it as an employee, then the copyright lasts 95 years. If it's just on your own, then it lasts for your lifetime, plus another 70 years. The tricky part is that if you wish to enforce your rights in court, then you have to register your copyright (just like you must register your car if you want to drive it on a public road.)
To register a copyright, you just need to point your web browser at http://www.copyright.gov/eco/and fill out the right form. For most folks, the form CO will work fine. You submit it with a fee of $55 and in a blink of an eye (well, as of this date, that blink takes the government up to 22 months) you get back your registration certificate. If you expect to file a lot of registrations, then it pays to use the eCO online system, which is less expensive ($35) and faster (6 months) but is more difficult to learn and use.
That's all there is to it! If you have questions about copyrights, registrations and related matters, be sure to ask one of the attorneys at LW&H. They do this sort of thing every day.
Lawrence Husick
The End of an Internet Monopoly?

Not many know that only one company located within the United States controls the registries of all .com and .net domain names in the world. That company is VeriSign, Inc., a Delaware corporation located in Silicon Valley. VeriSign, through its contractual relationship with Internet Corporation of Assigned Names and Numbers (ICANN), has been the sole operator of all .com and .net registries since 2001. Neither the contract to control the .net registry, nor the contract to control the .com registry, was the result of a competitive bidding process. This VeriSign monopoly may end if an antitrust suit now pending in the Northern District of California federal court is successful.
Enter the "Coalition for ICANN Transparency" (CFIT). CFIT is purported to be a group of website owners and others involved in the domain name system. On November 28, 2005, CFIT filed the first of several complaints against ICANN and VeriSign in the Northern District of California. Each complaint alleges violation of antitrust laws to end VeriSign's monopolistic control of the .net and .com registries. ICANN was eventually dropped from the case in December 2006, when it was not included as a defendant in a second amended complaint filed by CFIT. Although the District Court dismissed the action against VeriSign in May 2007, the story doesn't end.
CFIT appealed the dismissal to the Court of Appeals for the Ninth District and on July 9, 2010 it reversed the lower Court's ruling and allowed the case to go forward against VeriSign. It remains to be seen what will happen next. The CFIT action has certainly turned a spotlight on the practices of both VeriSign and ICANN. Last year, for instance, the House Subcommittee on Communications, Technology and the Internet held hearings on ICANN's contracts with VeriSign.
If the CFIT case goes to trial and VeriSign loses, the results could be dramatic. Plaintiff CFIT has asked the Court to ultimately declare the 2006 .com Registry Agreement unlawful, as well as those provisions of the 2005 .net agreement regarding control of a registry of expiring domain names. Additionally, if it is determined that VeriSign has violated antitrust laws, there is the potential for treble damages, as well as payment of CFIT's court costs and attorneys' fees. Neither side in this matter appears to be ready to fold, so it will be interesting to see what happens next. Stay tuned.
Adam Garson
The Secret of the Nooks and Crannies

Traditional methods of intellectual property protection have their limitations, particularly for protecting ideas. Patents only protect new, useful and nonobvious ideas, the details are public, and protection last only for a fixed term of 17 or 20 years years, depending upon the filing date; and trademark and copyright law do not protect ideas at all. It's no wonder that some companies resort to the time-tested method of secrecy for protecting valuable ideas. But secrecy may not be the best option for protecting ideas whose value derives from communicating them to the public. On the other hand, commercial recipes, formulae, and algorithms not only derive their value from confidentiality but their value may actually be enhanced by a cloak of secrecy. The "Coca-Cola" recipe is one of the best known and oldest trade secrets whose value is probably worth billions.
In a recent article in the Daily Finance website, Bruce Watson listed the 10 most valuable trade secrets today. It's a familiar list:
1. Thomas English Muffins;
2. Coca-Cola's secret recipe;
3. Google's search algorithm;
4. KFC's Fried Chicken recipe;
5. The WD-40 formulation;
6. The mechanics of how the New York Times Best Seller List is created;
7. Auto-Tune algorithms;
8. The recipe for Chartreuse;
9. The recipe for Mrs. Fields' Chocolate Chip Cookies; and
10. Starwood Hotels' formula for luxury service.
It's interesting that Thomas' English Muffins holds the number one position. A recent New York Times article described litigation between Chris Botticella -- former vice president in charge of bakery at Bimbo Bakeries -- and Bimbo Bakeries, the owner of the Thomas' English muffins brand. Apparently, Bimbo accused Botticella of stealing company secrets when he left the company in January 2010 to accept a job with rival baker, Hostess Brands. Legal documents showcased the company's methods of maintaining the secrecy of the Thomas English muffins recipe. Recipe manuals were referred to as "code books" and valuable information was shared on a need-to-know basis to protect it from disclosure. To quote the New York Times,
The secret of the nooks and crannies was split into several pieces to make it more secure, and to protect the approximately $500 million in yearly muffin sales. They included the basic recipe, the moisture level of the muffin mixture, the equipment used and the way the product was baked. While many Bimbo employees may have known one or more pieces of the puzzle, only seven knew every step.
Disclosing a secret to employees as component parts of a larger secret may seem like overkill -- like multiple launch keys to a nuclear warhead -- but to make a product, lots of people must understand the process, or at least the part for which they are responsible. Thus, it makes sense and certainly achieved the desired trade secret protection. Ask Mr. Botticella; he was ultimately barred from starting his new job by the U.S. Court of Appeals for the Third Circuit.
Adam Garson
Patent Invention Services: Buyer Beware!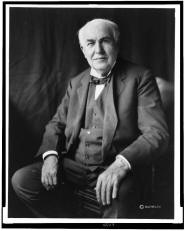 Anyone who regularly or even occasionally watches late night television has seen the advertisements for patent invention services. These services usually advertise an ability to help an inventor both protect and promote his or her invention. There may, indeed, be responsible organizations out there that advertise honestly and help inventors get their products to market. However, in recent years the field of invention promotion services has been tarnished by more than a few bad apples.
In our experience, we have seen patent searches provided by these services that indicated that an inventor's idea was patentable but did not distinguish between design patent coverage and utility patent coverage. Design patents protect the way an item looks, not its functioning. Utility patents protect the idea/functioning of the invention. This is a crucial distinction that may govern the marketability of the invention, but is not made clear by the invention promotion service. In most cases, whether they know it or not, inventors think of utility patent coverage when deciding to follow their dream to get a patent for their invention.
Despite the glossy wrappings and bound volumes provided by some invention services, historically the services have not succeeded in securing significant returns to inventors. The situation prompted Congress to direct the United States Patent and Trademark Office (USPTO) (under 35 U.S.C. 297) to keep a record of complaints about invention promotion services. Complaints and more information can be found at the U.S. PTO.
In addition the Federal Trade Commission, under "Project Mousetrap," successfully initiated lawsuits against some invention promoters for deceptive and fraudulent practices resulting in fines of millions of dollars. Additional consumer protection information regarding patent invention promoters can be found at the FTC site.
Reputable patent attorneys discuss the prospective economic value of obtaining patent protection with the client so that the client may judge whether the projected patenting expense is reasonable based on the expected value. Inventors should always ask such questions of their attorneys and others who promote their inventions.
Lawrence Husick